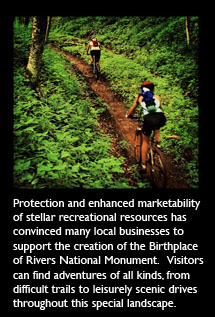 In West Virginia's Allegheny Highland communities, the Monongahela National Forest is a critical economic driver. The most sustainable, perhaps the most valuable, product the forest offers to the Mountain State's local economies is a wide variety of recreational activities. Located within a day's drive of nearly one-third of the nation's population, the Monongahela attracts hundreds of thousands of visitors year-round. Whether visitors come to the forest for world-class hiking, camping or mountain biking in the summer months, or for thrilling hunting and fishing in the fall and spring, local communities certain reap many benefits of such an incredible resource nearby. Visitors are likely to spend money at restaurants and lodging establishments, as well as local gas stations, grocery stores and specialty retail shops. Dollars spent by visitors stay in local communities, as they support local businesses and jobs. Many community institutions such as libraries, hospitals and emergency services depend on tourism dollars for their sustainability, relieving landowners of burdensome property taxes. Simply put, each time someone visits West Virginia to enjoy the Monongahela National Forest, local communities win.
Downstream Strategies Report: Birthplace of Rivers could create jobs, support economy by $5.2 million
All About Jobs: Documented Benefits in Monument Communities
National Monument status would preserve unique natural resources which drive local outdoor-tourism economies, and would give the Monongahela National Forest region an upper hand by greatly enhancing the marketing potential of the area.  Highlighting a complex of special features with a recognizable designation increases the area's visibility on the map, and is sure to attract more visitors.  The economic benefits monument communities enjoy are well documented, thanks to the non-partisan research group, Headwaters Economic.   In analyses of national monument communities across the U.S., the economic benefits enjoyed in the years following the designation are consistently strong.  Much of Headwaters' research focuses on the most-recently designated national monuments in the West.  While there are very few wildlands national monuments in the East, local business owners and community leaders have plenty of reasons to be encouraged by the economic potential associated with the creation of the Birthplace of Rivers National Monument.
The research:
Interactive Map – The Economic Importance of National Monuments
Reports – National Monuments and Local Economies
It's a fact:  National Monuments Rescue Local Economies
What it Means for Mountain State Businesses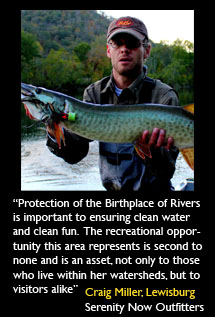 Without a doubt, businesses in mountain communities rely on the Monongahela National Forest's diverse offering of recreation activities. From restaurants and the small farmers they support to outfitters and retail shops, these establishments are largely sustained by visitors who travel from across the United States to experience the best the Mountain State has to offer. Not only would creation of the Birthplace of Rivers National Monument mean popular features such as Cranberry Glades, Falls of Hills Creek and Tea Creek Backcountry would always be available for enjoyment of future generations, but the special designation would create an enhanced marketability to attract additional visitors to the region. By creating a highly-visible, recognizable feature, we give businesses in and around the gateway communities of Hillsboro, Marlinton, Lewisburg and Richwood — as well as the entire state — a chance to capitalize on the great honor and marketability granted by national monument status.
Business owners throughout the greater Monongahela National Forest region acknowledge the likely economic benefits of National Monument designation, and encourage the creation of the Birthplace of Rivers National Monument. Business leaders from establishments such as Pretty Penny Cafe in Hillsboro, Serenity Now Outfitters in Lewisburg, Elk River Touring Center in Slatyfork, and Snowshoe Resort — one of West Virginia's largest recreation and hospitality employers — understand the importance of preserving and highlighting our resources to attract more visitors, grow vibrant economies and keep tourism dollars in local communities.
Business Owners Say 'Yes': Do you own a West Virginia business and wish to advocate for the Birthplace of Rivers National Monument? Sign on to the growing initiative and tell us why you support preserving the Monongahela National Forest and encouraging sustainable economic opportunities.

Sign on as a Birthplace of Rivers business supporter!
Creating "In the Woods" Jobs Through Active Restoration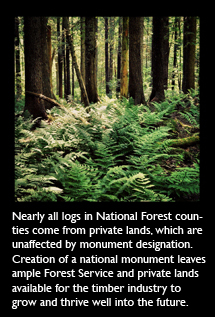 Most of the area under consideration for national monument status is managed in a way that currently allows no commercial logging (existing Wilderness or Semi-Primitive Backcountry). In other areas, minimal timbering activity has recently occurred, and the vast majority of the Monongahela National Forest's timbering-managed lands would be available for commercial logging as a future use.
A cornerstone activity promoted as part of the Birthplace of Rivers National Monument would be the active restoration of spruce and spruce-hardwood communities, as is currently emphasized under the forest plan for some areas considered for monument designation. To accomplish the goals of restoring the historic red spruce ecosystem, land managers must be given flexibility to carry out these tasks, as well as the assurance that their important restoration work will not be nullified by future administrative decisions. Rather than monument designation precluding flexible management and forestry activities such as vegetation treatments and necessary timber harvest, this status would promote stream and forest restoration, creating local "in the woods" forestry-related jobs, fueling the economy in a variety of ways. U.S. Forest Service Chief Thomas Tidwell recently underscored this point in a letter to the Pocahontas County Commission:
"National monument designation can bring many public benefits including increased visitation and additional opportunities for potential federal resources to be matched by other federal, local and private resources for broader restoration objectives."
While tourism-based businesses clearly expect direct benefits from potential monument designation, community leaders and business owners in traditional industrial sectors should not expect detrimental impacts as the result of the Birthplace of Rivers National Monument. The research of Headwaters Economic has shown that traditional industries such as logging, generally remain steady following the designation of large-scale national monuments. We should expect a similar result in West Virginia if the Birthplace of Rivers National Monument were established, primarily because nearly all logs cut in Monongahela National Forest counties come from private lands. Additionally, active restoration activities may bolster forestry-based employment within the potential monument area. Monument advocates believe industries such as logging can and should be part of diverse local economies. Establishment of the Birthplace of Rivers National Monument would not affect timber sales currently under contract, and would have no effects on private lands, where the timber industry cuts nearly all of it's logs.