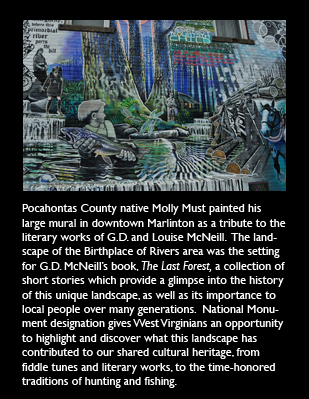 The Birthplace of Rivers area has long been at the intersection of humanity and nature. Many who came to alter the landscape found themselves changed by it , molded by its bounty and hardship. Famed local author G.D. McNeil highlighted that relationship in The Last Forest, describing the importance of the wild landscape to local communities. His writing demonstrated the resilience of the Appalachian people and their ability to live with the land. With the keen eye of a journalist, he also detailed the devastating effects of industrial logging in the early 1900s, as much of the virgin forest was cut and forever altered.
McNeill's daughter and former West Virginia Poet Laureate, Louise McNeill Pease, continued his legacy by penning hundreds of poems about the area's people and their connection to the place. Stark and powerful, her poems depict a rugged land inhabited by a hearty, creative people. Of Gabrieal MaCelmain, a early pioneer to the mountains, she writes:
He climbs the eastern slope to stand
Upon the backbone of the range,
And there across that brutal land
A hundred seasons change.
While the McNeills used writing to champion traditional life in the mountains, others expressed their inspiration through music. Much of West Virginia's musical heritage comes from this portion of the Southern Monongahela, where remote communities and families used fiddle music and singing to make their own entertainment. Pocahontas County's own Hammons family became famed traditional musicians through their development of tunes with local titles such as "Cranberry Rock", while logging camps across the region produced fiddlers playing landscape-inspired tunes such as "Cherry River Line" and "Yew Piney Mountain." Many of these tunes have become standards in the American folk repertoire, and help define the long-standing interaction between this inspiring landscape and its inhabitants. The Birthplace of Rivers area continues to define how West Virginians interact with the landscape. The area serves as a necessary commons, one of the most popular backcountry destinations for the Mountain State's residents, who travel from afar to enjoy traditions of hunting, fishing and gathering. Monument designation gives West Virginians a new opportunity to connect with their heritage and discover the history of West Virginia's lasting affinity for the southern Monongahela National Forest.