Generally, the areas under consideration for national monument designation are already managed for backcountry recreation, preservation, or ecological restoration — purposes fully compatible with this special designation. However, these special features are protected under temporary guidelines, which are always subject to future administrative changes. Such changes could drastically alter the way these areas are managed, and could compromise some of West Virginia's most popular scenic areas and most visited outdoor recreation destinations. Monument advocates simply hope to keep these unique areas safeguarded from potential threats by solidifying the intent of most of the area's current management, giving the region greater recognition as the Mountain State's first-ever wildlands national monument.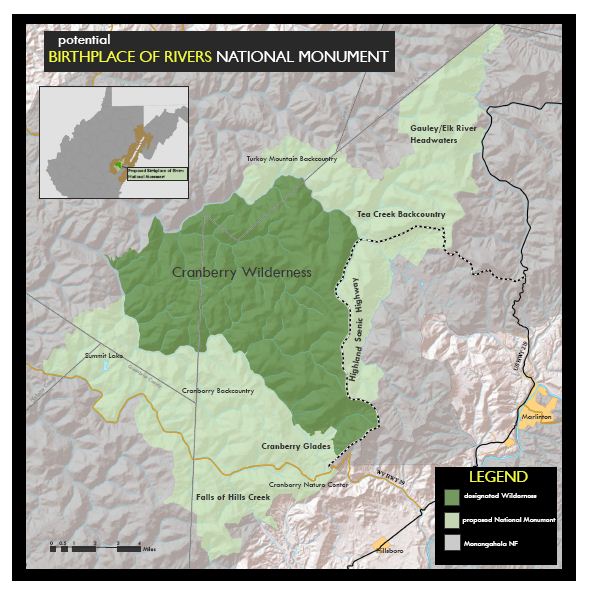 Although final boundaries to be included in the citizen proposal are still to be decided upon, monument advocates have identified approximately 72,000 acres surrounding the existing Cranberry Wilderness for potential national monument status.
To many, the areas identified by represent the epitome of a qualifying landscape to be considered for national monument designation. Indeed, the area in and around the Cranberry Wilderness contains multiple features of historic, cultural, scenic, geologic and scientific value, creating a unique opportunity to showcase so many deserving features in one landscape.
As it's name indicates, the Birthplace of Rivers National Monument would extend protections to many important streams. In fact, six regionally-significant rivers — the Cranberry, Cherry, Gauley, Elk, Williams and Greenbrier — begin within the potential monument's boundaries.
If you have input regarding potential monument boundaries or management recommendations, visit the Get Inolved page, to provide feedback, help craft a final proposal or volunteer with the Birthplace of Rivers campaign.