Trail Maps: Explore the Birthplace of Rivers Area
Thanks to the West Virginia Highlands Conservancy, maps of the vast backcountry and special features included in the potential Birthplace of Rivers National Monument are available online for quick and easy viewing.  Visit the links below to plan your next adventure in the Birthplace of Rivers area.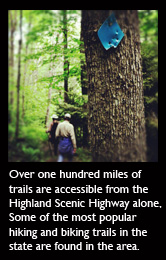 Cranberry Wilderness
Maps for trails in and around the East's largest National Forest Wilderness Area.
Tea Creek
Trail maps to guide your next hiking or mountain biking adventure in the Tea Creek Backcountry.
Cranberry Glades
Map and brochure of this special tundra-like area containing sensitive wetlands, extraordinary scenery and many rare plant species.
Highland Scenic Highway
Map and brochure with information about various attractions along the Scenic Highway.
Falls of Hills Creek
Map and brochure of this area, which includes West Virginia's second-highest waterfall.